Do you ever have that struggle of waking up in the morning for work or whatever activities you have set for the day and finding a hard time figuring out what to wear? You have a closet full of clothes, yet it seems like you have nothing to wear! Pick through your dress pile and you just might find outdated pieces. Wait! Before you attempt to throw that cringe-worthy maxi skirt, here are a couple of do-it-yourself projects for you to turn those drab pieces to fab couture!
Are you ready, Cinderella?
Maxi to Sexy!
Difficulty Level: Easy
If you've had enough of maxi skirts, it is time to snip them up and turn them into a day dress perfect for the beach! This DIY is so easy, you will only need a pair of scissors and your excellent cutting skills!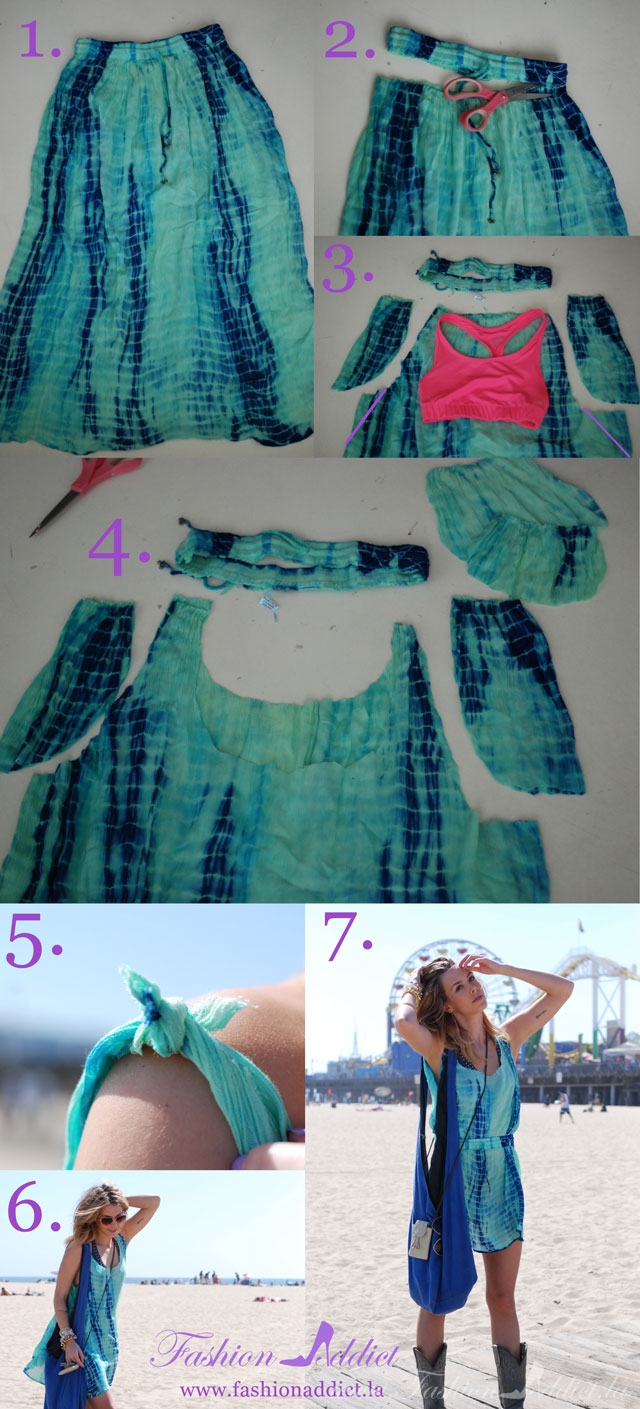 No Sweat Swag
Difficulty Level: Easy
We all have that one comfort clothing that we can never ever see ourselves parting with. But what happens when we get tired of seeing that plain Jane but ultra-comfy sweatshirt? Head on to the nearest craft store! Scour their aisle of beads and pick up pieces you can attach on to your sweats to spruce them up. And don't forget the glue!

Lace in Place
Difficulty Level: Easy
Upgrade those lazy tees into stylish tops! This lace tutorial from Mr. Kate shows you how to snip off of your shirt and allow a peek of your sexy back! You can always choose a cute cutout and play with different colored laces. Just remember to keep the most private parts of your top body covered as we don't want to offend people. Decency is always best!
Sick Men's Shirts to Chic Women's Dresses
Difficulty Level: Hard
Sick in this shirt transformation may mean 2 things. Whether you find a certain men's shirt a sore to the eyes or find its material and print awesome, this project is apt just for that! Brit+Co guides us step-by-step to up cycle men's shirts into chic dresses. However, your sewing skills will be tested in this. The dresses are worn best over leggings, skinny jeans or badass cowboy boots! Don't forget to accessorize!
Personalized Statement Tops
Difficulty Level: Easy
Now this is a no-brainer. Who knew bleach pens can come in handy and turn a basic shirt into a fabulous statement tee? Doodle cute art or practice your calligraphy skills by writing your favorite quote, this DIY is so easy to make! Something Turquoise provides us the instructions on how to create these personal masterpieces in just 20 minutes! This is likewise perfect as wedding giveaways for the bride and groom's entourage!
Once a Bore, Now Adore
Difficulty: Medium
Get those sleazy skeletons out of your closet! We're pretty sure you have one or two collared shirts that have been hanging around since who knows when you purchased them. To get this new look, cut out the pattern and ready your sewing skills. You may opt to use a machine or sew it with your hands. Rest assured, the outcome will have everyone adoring your creation!
Eye Love Your Shirt
Difficulty Level: Easy to Medium
Take an old top and put a quirky feel to it! You will need only a few materials to make this fun tee that you can wear to a friend's party! To put the applique on the shirt the easy way, use a fabric glue. Though this may not last long especially when the top gets washed often. On the other hand, sewing the applique by hand will guarantee longer use. Extra effort on handcrafting, but with a cute wear like this, who is to complain?
OwLovely!
Difficulty Level: Medium
Gearing up for a cold night out? A sweater is always good to keep you warm, but not if it looks like dowdy. Add an embellished owl and cheer "Howdy!" You need not worry if you do not know how to draw. The tutorial for this 'owlsome' piece comes with a cutout you can trace. Give it a try and hoot once you are done!
Fringe with Benefits
Difficulty Level: Easy
Nothing spells F-U-N much better than fringes on a hot summer day! These shirts are a staple clothing especially when romping your way to white sandy beaches! It is not hard to make these, all you need is a cotton-soft oversized shirt, a pair of scissors and you're all set!