A few more sleeps and we'll be witnessing the most awaited $300 Million fight in Vegas! As May 2 draws near, we were able to pull out the freshest news on what is happening around the world in preparation for this biggest game of the year!
Mike Tyson seems to have his bet on Pacman
According to the retired boxer Mike Tyson, He thinks that Floyd Mayweather Jr. is a small, scared man. Tyson admitted that he likes Manny better not because of the number of punches that Manny could throw on Mayweather's way but on how fast and elusive Manny is, which is a great advantage since he'd be really hard to hit.
The retired boxer also stated the following words towards Mayweather:
"He's very delusional. If he was anywhere near that realm of 'greater than Ali,' he'd be able to take his kids to school by himself."
Even McDonald's supports Pacman by showing off their ads. What a nice support!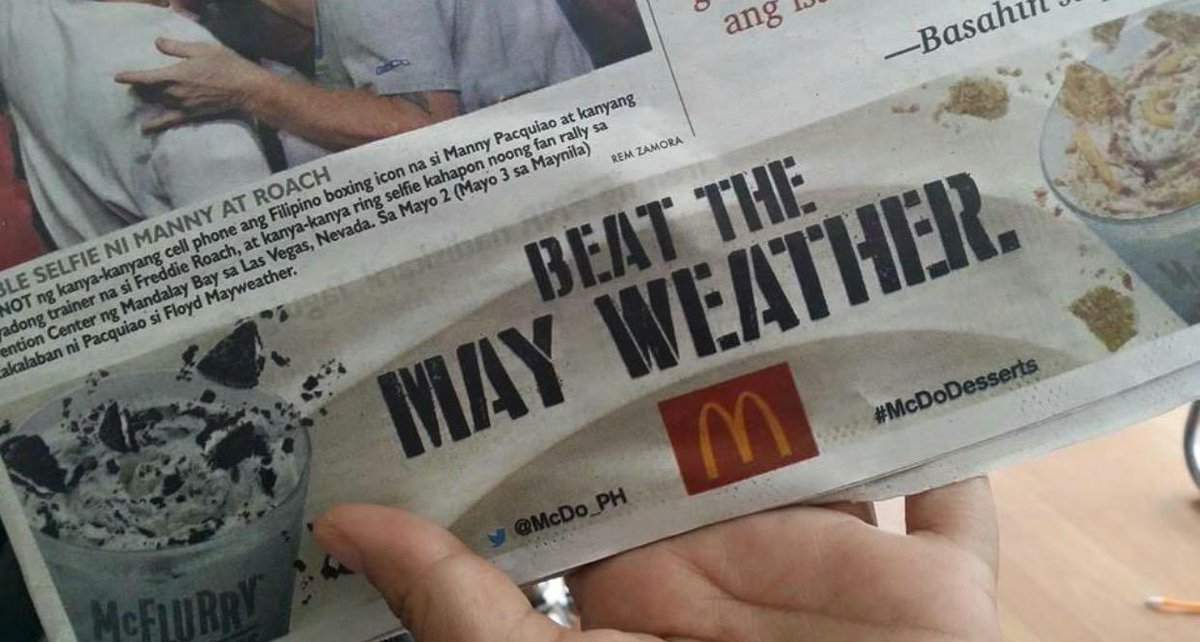 Pacman's Million Dollars after the game
For sure everyone is very much aware of the story of Pacman's life, he is the best example of rags-to-riches through hard work, But Manny Pacquiao never highlighted how many digits he will be earning after this game whether he wins or lose. As a christian, Pacman believes that he has a purpose and he is an instrument of God to let everyone see that God can definitely make someone from nothing to something — literally.
For Pacman, this game is not just all about the money, he's fighting for honor and as a modern hero, he stands to make his countrymen proud.
"Before I was sleeping in the street with nothing and now I cannot imagine how that boy sleeping in the street, looking for food and starving became known not just in the Philippines but the the world. It is beyond imagination how blessed I am." — Manny "Pacman" Pacquiao
Manny's Killer instinct, Mayweather should be scared of:
Based on last night's press conference, Freddie Roach, Pacman's coach admitted that the boxer stopped beating opponents until KO since 2009 with his match with Miguel Cotto. Roach is worried that with Mayweather's standing, Pacman might not have the determination and the will to knock out the big guy. But according to Manny, he is more than ready to take on Mayweather and he now rediscovered his killer instinct!
"I am so happy because that feeling of the killer instinct – that focus I had from 10 or 11 years ago – it is back. In previous fights, a couple of fights, I never felt like this, it's different. I am 100 per cent relaxed and confident of winning." — Manny Pacquiao
The last press conference of both parties before the game happens this Saturday, successfully initiated with mutual respect.